Island Honda has been named one of the 2019 "Best Dealerships to Work For" in the U.S. by Automotive News, making the store a three-time winner of the distinction. 
"Our store has a personal philosophy of being more than just a car dealership," said Jim Woods, General Manager. "We have a family, an awareness of community, an open-door policy and an existing vibe through the store that can only be created by Team Island Honda."    
This is the eighth year that Automotive News has partnered with Best Companies Group to identify dealerships in the U.S. that have excelled in creating great places to work. The program measured workplace satisfaction and talent retention through a confidential survey of employers and employees.    
"I am very grateful to have such special team," said Woods. "I look at their own personal growth, and I am proud that I can improve their quality of life through wise leadership."
Employing 66 local residents in sales, service and support, Island Honda is part of Lithia Motors, Inc. (NYSE: LAD) - the third largest automotive retailer in the U.S. and one of the fastest-growing companies on the Fortune 500 (#265 in 2019).   
"Each dealership has its own unique way of establishing a positive culture," said Bryan DeBoer, Lithia Motors, Inc. President and CEO.   
That culture at Island Honda includes ample incentives, opportunities for growth and a fun environment.   
"Receiving this award lets me know that I am performing as a leader of a diverse team. I have created a competitive environment with a friendly staff who cares about the company, the customers, their career, self-improvement, and they enjoy their job," said Woods.
In addition to being named one of the "Best Dealerships to Work For" multiple times (2015, 2018-2019), Island Honda has won the Lithia Circle of Champions Award four years in a row (2015-2018).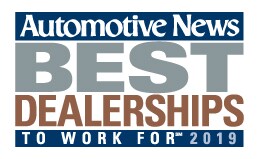 Hours
Monday

9:00 am - 6:00 pm

Tuesday

9:00 am - 6:00 pm

Wednesday

9:00 am - 6:00 pm

Thursday

9:00 am - 6:00 pm

Friday

9:00 am - 6:00 pm

Saturday

9:00 am - 6:00 pm

Sunday

Closed