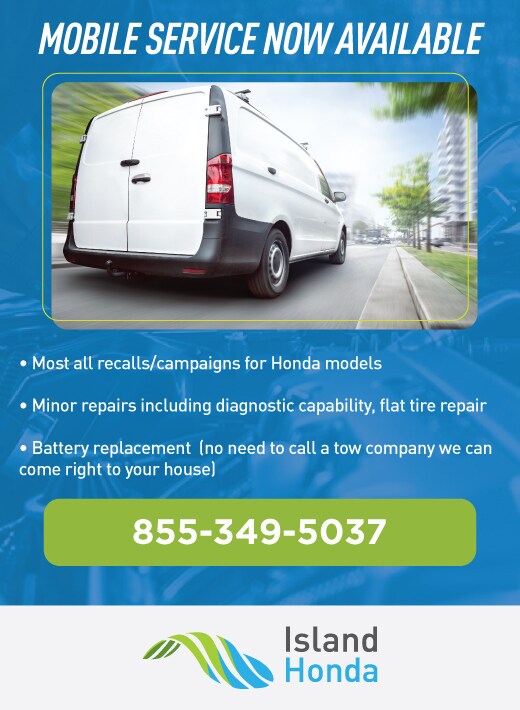 Nothing More Impressive than a Properly Serviced Honda
Honda is well-known for their incredible ability to stay on the road for many more years than their competitors. It is not uncommon to see a Honda with more than 200,000-miles or even 300,000-miles and that long-lasting reliability can all be traced back to the service centers at our dealerships that excel at keeping Honda models on the road for many years.
When you live in Kahului, Kihei, Wailuku, Lahaina there is no better place to visit than Island Honda in Kahului, HI. Here we have a service center that is full of professional technicians who will work hard to get your car fixed properly and in a timely manner.
How Often Does My Car Need Maintenance?
When you own a Honda it is important to make sure you follow the maintenance plan to ensure that your car will continue to run smoothly for years to come. One thing that makes keeping your Honda maintained easy by making sure you rotate your tires regularly, change your oil according the service plan for your specific model, and keep fresh fluids running through your car.
Depending on your specific Honda the plan for maintenance you may be visiting our dealership as often as every 3,000-miles or as many as every 7,500-miles. These visits will cover everything from your oil changes, system checks, or tire rotations. With every visit you will leave with the confidence that your Honda will drive great for years to come.
Why Choose Island Honda?
When you are looking for a reputable service center why not check out Island Honda? Here our staff will do what is necessary to make sure your Honda is repaired and maintained properly. Thanks to our staff and facilities we have the ability to handle anything from brake repairs, transmission repair, and anything to do with electronic systems.
Plus, when you are given the chance to visit Island Honda for your Honda service you will also be given the chance to save money with our Service Specials that help to keep more money in your bank account. Additionally if you come into our service center for a repair and it is more costly than you are expecting, you can get special service financing where you can have the money available to get your car repaired.
There is no better place to have your Honda repaired and maintained than Island Honda. Come on over today and get a chance to have your Honda given the care is needs and deserves. See you soon!



Schedule Service
It's incredibly easy to schedule auto service near Wailuku with us, and there are also many ways to save on your next appointment, thanks to the number of monthly service specials and coupons available for you to take advantage of and find a great deal.
Located right here at 110 Hana Hwy, Kahului, HI, our service center at Island Honda is available to take care of any maintenance job your car needs. Swing by today or schedule an appointment soon, and you'll be able to rest easy knowing that your Honda is in good hands when you trust our service center for the care of your vehicle.
Service Hours
Monday

7:00am - 5:00pm

Tuesday

7:00am - 5:00pm

Wednesday

7:00am - 5:00pm

Thursday

7:00am - 5:00pm

Friday

7:00am - 5:00pm

Saturday

8:00am - 2:00pm

Sunday

Closed